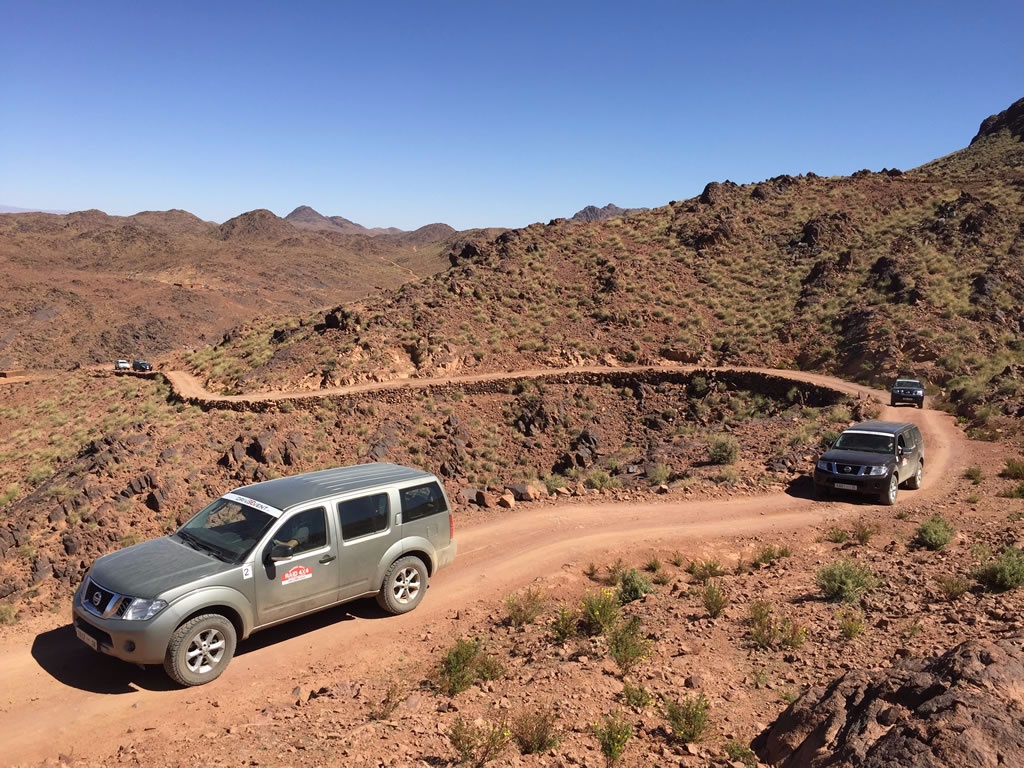 Dakar experience
From 720.00 €
3 days or 5 days
DAY 1 – Errachidia - Merzouga
Optionnal Transfer from your departure town (Marrakech, Fes, Casablanca, Rabat …) to Errachidia.
Starting from Errachidia, You will drive down to Gheris Valley toward Todgha river, then you will reach Erfoud, on Ziz river, before driving southward towards Rissani. Then, look for the dunes of the erg Chebbi next to Merzouga.
From Erfoud to Merzouga, you are in the historical valley of Tafilalt, link between the North and the caravanners roads to Sahel (deep south), this valley goes through Middle Atlas and High Atlas on its eastern side.
Both towns of Erfoud and Rissani are main steps of Tafilalt region. The area is very rich in paléozoïque fossils.
In Merzouga, you leave your 4x4 car confort to reach the camp by camels, through the sand dunes of Erg Chebbi (around 40 mn ride).
At your arrival, a welcome aperitif is waiting for you during the sunset.
Dinner and night at your camp, around firecamp, with local drums.
DAY 2 –Dakar Track- Merzouga – M'hamid (300 km)
Early departure at sunrise to start the great Dakar rallye driving stage.
Starting along the Algerian border, the first part is a classical stage of Moroccan raids.
On the second part, you will cross 'the forbidden track' before driving North toward Zagora and Mhamid.
Arrival in Mhamid before night.
Dinner and night in your auberge.
DAY 3 –M'hamid – Marrakech
Breakfast and departure to Marrakech.
(possible transfert to another town for your departure flight.)
Price : 720€ p/p
(based on 2 pax minimum)
Option : 1 more night / 2 more days
DAY 4 – M'hamid – Foumzguid (190 km)
Optional stage to enjoy another day in deep desert. You will leave from Mhamid through a track to reach a second camp nestled in Chegaga sand dunes. These huge dunes are as beautiful as those from Merzouga, though wilder and less busy. Spread over 40 kms they can reach 300m high.
They are located on the borders of Draa Valley, where the river dries under the surface to eventually reappears on Atlantic coast.
This day is an opportunity to take time for a full exploration of the region.
Diner and night under the stars of our Erg Chegaga camp.
DAY 5 Foumzguid – Marrakech (317 km)
Back to Marrakech
Price : 965€ p/p
(based on 2 pax minimum)